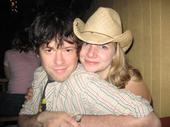 Exactly one year ago today, I got the following email from GTB in response to a request I made to help me tiptoe into this relationship:
"I think you're right about taking things slowish. As incredible as I think you are right about now and as easy as it would be for me to jump into something with you with both feet, the "having mutual friends" thing is important to be mindful of, and so is the basic fact that regardless of what does or doesn't happen between us, I know that I want to be your friend and have you in my life in some way–I think you're pretty damned great and someone that I want to know for a long time."
Phew, I remember thinking then. Right after that, I'm pretty sure the thought, "What a sweet guy!" came to mind.
See, GTB and I had known each other for a few years, but we'd only spent the previous few weeks getting to really know each other over email and the phone. As he would need to drive from Portland to Seattle to actually go on a face-to-face date with me, there was some talk about where he would sleep when the date was over. I think we were both pretty sure that he was going to end up shacking up with me for the weekend, but how do you have anything resembling a first date if both parties already know they're going to bed together at the end of it?
And so, GTB secured another place to stay for the weekend.
That Thursday, i.e. November 17, GTB and I had our first date. This Friday is our one-year anniversary. And when I say anniversary, I know you are wondering, "Anniversary of what? First date? First kiss? First time you slept together?" And the answer to that question is "Yes."
What can I say? I'm kind of a slut.
And yes, he shacked up with me for the rest of the weekend, too.
Four and a half months later, I moved to Portland and into a house with him. Two months after that we were engaged. A few days shy of one year later, I'm still as crazy about him as I was then, if not more so.
So much for taking things slowly.