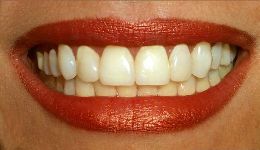 A few weeks ago, my watch stopped working. So I jimmied the back off, figured out what size battery it takes, got a replacement, and set about putting the back back on. Sounds easy, right? Yeah, I thought so, too.
The back had defiantly decided to spend the rest of its life free from the rest of the watch. I couldn't get the damn thing back on. I tried lining it up perfectly. I tried pulling a bunch of other innards out and then putting them all back in and then snapping the back on. I tried hammering it. Finally, in desperation, I tried using my front teeth. Because I'm not so smart sometimes.
As you could probably guess, this didn't work either. But it did succeed in cracking my top right incisor. (I eventually got the back on with a set of pliers, just in case you ever find yourself in a similar situation.) And so for weeks, I've been paranoid about biting into an apple or a piece of beef jerkey and shattering my poor tooth and then having to watch it crumble out of my mouth while the root hangs there, cold and exposed. So I bit the bullet (metaphorically, of course, since literally biting a bullet would crumble the tooth for sure) and called GTB's dentist.
My appointment with him was this morning. He did some x-rays and some prodding around my gums with a pointy thing and some close up looks at it and my other teeth. Diagnosis: It's fine. That tooth isn't any more cracked than any of my other teeth, particularly the front ones. Prognosis: I've been advised not to chew my fingernails or eat ice, but apples, jerkey, and the like are all back on the menu.
The dentist commended me on the overall health of my mouth and noted that it doesn't appear I've had much work done. I told him that other than braces to fix an overbite in junior high and a few fillings, nope, I haven't had much work.
It was then that he delivered the horrible news. It appears that the tooth I thought was cracked, which is in fact mostly intact, is starting to tilt ever-so-slightly backward. Eventually, he surmises, it will lose contact with the incisor next to it and slip behind it, making me a snarltooth. He recommends a retainer.
A fucking retainer, people.
Here I am, 30 years old, thinking my awkward years are behind me. No more braces, no more acne (well, except around my period), no more bad hair or makeup choices. But no! He wants me to wear a retainer. And if I refuse? I get to look like Condi Rice. Great.
So much for the sophisticated 30s. And tonight, just to kick me while I'm down I guess, I get to go see my hair guru to cover up all my grey hair.