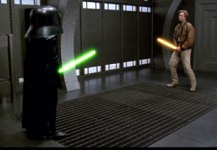 When we both lived in Seattle, my friend Jeff and I would get together on a regular basis, usually at his apartment, for TV watching and Cheetoh eating. Because he had a huge, high-def TV, anything we watched was entertaining. Shit, the news was even good, because in high-def, Dan Lewis' hair is hilarious.
Usually though, we'd end up watching a movie. I can't even tell you how many times I'd get to his place, we'd eat so much Chinese food we wanted to die, and I'd beg him to watch Finding Nemo. Together, we've probably seen that movie 15 times. (I won't even tell you how many times I've seen it with other people or alone. What can I say? I love Dori.)
If it wasn't Nemo though, because even sweet little Jeff got sick of that movie, we'd watch some other beautiful disaster, like Excaliber or Highlander.
On more than once occasion though, we'd resort to Spaceballs. I saw it a hundred times as a kid, but it wasn't until I was fully grown that I could appreciate all of the homages (if you can call them that) this film contained. Though, I have to admit, the John Candy character was a lot funnier when I was young.
Jeff and I would put that movie on, laugh at the good parts and talk about our dismal dating lives during the slow ones. It was the perfect movie for us.
Not long after I moved to Portland, Jeff moved back to Boise. I haven't seen him since my going-away party in Seattle in March, and I miss those evenings of ridiculous movies, easy banter, and 10,000 calories.
When I saw this morning that Mel Brooks is turning Spaceballs into a cartoon, I laughed out loud at the idea of going to Jeff's apartment, eating junk food, and watching DVRed episodes together. Then I got a little teary when I remembered that's not really a possibility. Unless one of use gets a jet sometime soon.
Jeffy, I guess we'll just have to turn on the cartoon and call each other. I'll order kung pao chicken here, you get walnut shrimp there (can you get walnut shrimp in a landlocked state?) and we'll jabber on and on about exes, dating, and how brilliant Daphne Zuniga is.