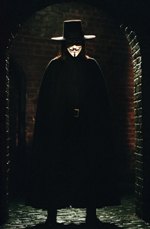 As a writer and a neurotic, I'm prone to hyperbole. When I love something, I don't just love it; I love love LOVE it. I say things like, "Hand's down, this is the best…" whatever at least once a day. I use adverbs more than probably anyone you've every met. (Are you starting to get the picture?)
Given that, I know that the following declaration will be met with some skepticism. Many of you will roll your eyes and think, "OK, Girl, so you have a new favorite movie. Whoop Tee Doo." So please understand that I am being completely serious, and using no exaggeration when I say this:
V for Vendetta is one of the best movies of all time.
After a breakthrough in communication where I told GTB that I couldn't bear one more Friday night jumping from bar to bar, party to party, show to show. So we made a plan to do nothing. We grabbed some dinner (by the way, Big Daddy's BBQ is also a new favorite, mmm…brisket) and headed to the video store.
GTB was set on seeing V for Vendetta. I was luke warm to the idea, so we also rented Broadcast News (a classic) and King Kong (I hadn't seen it yet; sorry, Peter). We got home, I opened a bottle of white, GTB cracked a beer, and we put the movie in.
Two plus hours later, when the credits started to roll, I said, "I kinda wanna watch it again." I never feel that way about movies.
At least three times throughout that first viewing, I said something like, "Why haven't we seen this yet?" or "This movie kicks so much ass." And at least three times, during a particularly moving scene, GTB would get so excited, he'd throw both of his arms sky-high, in a touchdown-signalling manner, just from the sheer testosterone jolt he'd just received.
I know I just wrote a post a few days ago about how shocked I am that there are so many people who believe that 9/11 was a government-sponsored conspiracy. But, by the end of this movie, I was a firm believer that if the movie wasn't depicting our current reality, it was definitely showing us where we could easily go. It's a terrifying idea, which is what makes the movie so important.
On top of that, it's a Wachowski brothers' movie, so you know it's going to be dark, beautiful, and full of good fight scenes.
And so, at the risk of being called a proselytizer, I encourage you with every fiber of my being to see this movie immediately. If you rent it and don't love love LOVE it, I will personally send you a check for $5.
Go. Now. I'm not kidding. I'll be here to discuss when you're finished.