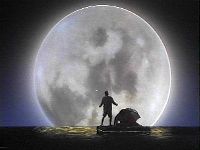 My family often communicates in movie quotes. Goodbyes regularly consist of "Have fun storming the castle!" Dinner time is sometimes greeted with "Get in me belly!" My sister will occasionally whisper, "Let's do a lap before committing to a location" as we enter a bar. We aren't above the random "Let's get pissed!"
We've so perfected this line of communication that there are times I forget that our common utterings are derivative dribble. It's not until I watch "So I Married an Axe Murderer" for the hundredth time that I realize I'm not a very original or creative speaker. This happened to me the other night when we watched "Joe Versus the Volcano." GTB had never seen it before, and it had been at least three years since I had. It's one of my all-time favorite movies, and at least a quarter of the dialogue is either in my everyday vernacular or runs through my head at least that often.
It's a silly little movie. And it's not one I force other people to watch. Mostly for fear that they won't like it or they'll say something not nice about it and I'll be compelled to hate them forver. (Kinda like the time I played Jeff Buckley for a date who'd never heard him before. When I asked what he thought, he shrugged and said, "I don't know, kinda whiney." And I thought, "All righty then, here's one more person I no longer have to bother giving a shit about.") GTB did say, on more than one occasion, "This is ridiculous!" But by the end, he had to admit it's charming and strange and brilliant in a way.
Aside from the weird imagery, outlandish storyline, redundant casting, and not-so-great musical choices ("Good Lovin'" by the Young Rascals? Gag.), there is beautiful writing. There is the scene where Angelica and Joe are getting to know each other and he wants to delve a little too deep. She says something like, "This is one of those conversations where we're all open and honest and it's bullshit and it doesn't cost YOU anything." Angelica is ridiculous and over the top and not supposed to be anything like a real person. ("Would you like to hear one of my poems?") But seriously, I cry a little every time I see that scene.
And later, when he's on the boat and Patricia is explaining why she was such a bitch on the dock and she says "I don't know what your situation is but I wanted you to know what mine is not just to explain some rude behavior, but because we're on a little boat for a while and… I'm soul sick. And you're going to see that." I don't even know why, but I love it.
But this movie's dialogue is even brilliant for it's occasional brevity. The chief on the island is the master of this. When Joe asks him if there is some ceremony before he jumps into the volcano, he says, "No, you just jump in." And when Patricia and Joe get married, that ceremony consists of:
Chief: "Do you want to marry her?"
Joe: "Yes."
Chief: "Do you want to marry him?"
Patricia: "Yes."
Chief: "Good. You're married."
Perfection.
This is getting overly long, and stumbled into "Chris Farley Show" territory long ago, but I felt I'd gone too long in my life as a blogger without an homage of some sort to this quirky little film.
Please note: I'm not recommending that you see this movie (if you haven't already). I mean, if you wanna, by all means, go rent it. But if you have not very nice things to say about it when it's over, I don't want to hear them.