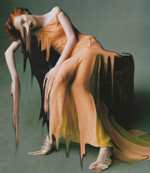 You know you're on the ass end of a heat wave when you check the weather report and say to yourself, "Thank heavens, it's only gonna be 90 today."
I'm a total pussy about hot weather. Even for a native Washingtonian. I melt in the heat. I get cranky. I get lazy. I get a strong urge to get drunk, even though I know alcohol will only make it worse. And, unlike most humans, I get hungrier. Since I'm a big believer in the power of a good popsicle, when I get hot, I got to the kitchen in search of milkshake makings and hydrating fruits. But when I get there, I'm usually too hot to get out the blender, so I end up eating anything that's easy. It's counterproductive, and though I tell myself this, I'm too hot to argue with myself and I end up going ahead and eating that melting piece of dark chocolate. Don't ask me to explain it.
Anyway, the past few days have been pretty miserable, weather-wise. Last week, as we prepared for our mini-holiday north, I was reading one of the Seattle newspapers and found an article that said, "Seattle is going to be hot hot hot this weekend." I clicked through on the link and read the story that detailed the high 80s to low 90s that were expected for the Emerald City on Saturday and Sunday. "Wusses!" I thought, and thanked my stars I was escaping PDX, where the temperatures were going to be over 100. Turns out, it didn't matter. Any day where it gets above 85 is sheer hell for me.
Before you judge, consider this: there is NO air conditioning in this part of the world. We so rarely need it, I guess we figure we can suffer through the days when it might actually be a good idea. On Saturday night, GTB, some of our nearest and dearest, and I had dinner at Agua Verde. As we downed Mango-ritas and (for me) steak tacos sans the tortillas in one of the nicest, prettiest, breeziest spots in Seattle, we stewed in our own juices due to the lack of AC, any semblance of a cooling wind, and the kind of humidity that rivals actual rain. I could literally feel my hair frizzing up. The only people I felt more pity for than those of us sitting in that heat were the people working there. I tipped extra well.
After a fun-filled Seattle trip, we came home to an oven of a house. I couldn't unpack. I couldn't think of cooking. I barely convinced myself to do three badly needed loads of laundry (and the only way I did was to remember that it meant I got to go into the semi-cool basement, which, despite a few recent episodes with dead vermin, was still an attractive compromise). We have a little window air conditioner in our bedroom, and GTB turned it on as soon as we walked in the door. But how long can you sit in the bedroom doing nothing? I mean, there's stuff to do in there, ahem. But after that 20 minutes, what then?
So I sat spread-eagled on the couch in the living room so as not to come into any skin-to-skin contact with either myself or GTB. I couldn't handle it. Popsicles weren't working (I couldn't eat them fast enough to keep them from melting down my arm anyway). Twenty-seven glasses of ice water weren't working. Whimpering wasn't working.
So when GTB suggested we bring up the TV/VCR from the basement and set it up in the air-conditioned bedroom, I threw all of my "no TV in the bedroom" scruples out the window and agreed it was the only recourse we had against the merciless heat.
We watched Joe vs. the Volcano and survived the night. Though after those twenty-seven glasses of water, I just about cried everytime I had to leave the merely 80 degree bedroom for the stifling bathroom.
There's no real point to this story. I'm still recovering from the heat stroke, apparently. I just felt the need to express my gargantuan gratitude that it's only supposed to be 90 today. And, even better, it's supposed to get down into the 60s tonight, which means if we leave a window open, the house outside of the bedroom won't be so hot in the morning. Ahhhhh….