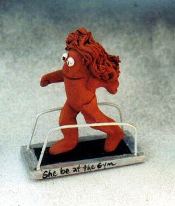 Since my last tirade about my ass (well, maybe two tirades ago), I've gone to the gym no less than four times a week. And still, my butt is the same size. Sure, it's a little higher and tighter, but it's not smaller. Yet, I keep going four times a week because I believe that eventually, it's going to pay off.
I don't know about you, but I find fitting in more than four workouts a week almost impossible if I want to maintain any semblance of a social life and still be caught up on all the other crap that comes along with being an adult (paying bills, doing dishes, going to the grocery store, playing with my new computer, etc.). Sometimes, I have to be creative about squeezing all those workouts in. For instance, I went on Sunday and lifted weights, so I didn't want to lift again on Monday. I decided that this week, I'd go Tuesday morning for cardio and weights, Wednesday after work for a long cardio or a run, Thursday morning for more weights, and then at least once over the weekend.
Last night, I went to the gym after an excrutiating hour-plus drive home from work. I got there late enough that I missed out on the good elliptical machine and had to settle for one that not only doesn't have a good resistance level, but is so close to the TVs that my neck gets sore if I try to watch anything. Which, as it turns out, was fine last night because ALL THREE TVs were showing the Angels vs. White Sox game. (I like baseball more than most girls, but do we really need all three TVs showing it? Can't I watch some news or the Sonics game or something? What am I supposed to fixate on when commercials come on?)
Anyway, I spent 30 minutes on the elliptical, ran on a treadmill for 10 and then walked and cooled down for 20. That's an hour long cardio workout. I felt justified in eating both the pasta and the bread that came with my takeout order after I got home (which, come to think of it, might explain why my ass is still enormous). This morning, I was all tight and almost skipped the gym, but decided that a good workout would loosen me up. So I did 20 minutes on a bike, lifted weights, did a bunch of abs, and then stretched.
A few minutes ago, I stood up to go to the kitchen for some tea and I HURT. Not the rewarding, redeeming kind of sore that usually follows a good lactic acid-releasing workout. I hurt like what I imagine really old ladies must feel like. Everywhere. My back especially. So I took a few Ibuprofen and am hoping I look like I'm walking normally. I didn't realize I was going to be this sore when I chose a short skirt, black tights, and my extremely high-heeled Mary Janes this morning.
Pain is good; I know this. And sometimes what it's good for is teaching you about your limits. For example, I go to the gym because if I don't, Sir Mix A Lot would write a whole new album about me AND because it makes me feel better about everything. My head is clearer, I'm a better writer, I sleep better, I am usually motivated to eat healthier, etc. But at what point is exercise actually bad for you? Is there a difference between sweating to stay healthy and just plain punishing your body because you don't like it?
A friend told me not too long ago that if you constantly send messages to your body that you don't like it, it's not going to work with you to improve itself. So if I'm beating the shit out of myself to stay in shape, is my body rebelling by making me sore and storing larger quantities of the not so good stuff I'm eating?
And if so, what, for the love of Pete, do I do to change that pattern? How do I make peace with my body but stay motivated to keep trying to make it better?
I'm flummoxed.