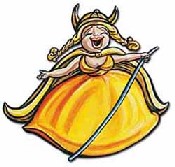 Last night, I had drinks with a friend who works at the symphony. We decided to go to a bar that is across the street from Benaroya, so I parked in the symphony hall's garage. When we were finished, it was after 7:00 and I had to enter the garage through the artist's entrance because the main hall atrium is closed along with the bus tunnel. As I got into the elevator to get to the bowels of the garage, a man hollared for me to hold it. He was probably 50, portly, wearing a bad suit and glasses, but looked harmless. You have the image in your head, right?
When he got in the elevator, he looked me up and down and asked if I was there to try out. I thought, "Try out for what?" but not really wanting to engage in a big conversation with him, I said, "Um, no. I was just having a drink with a friend." As his gaze fixed on my breasts (to be fair, I was wearing my low cut, ruffled, black shirt and white skirt), he asked if I was a "performer." Again, I said no. He then explained that a few nights ago, Benaroya was host to an "operatic competition" and he thought maybe I was taking part in that.
So, apparently even middle-aged fat guys think I'm chubby. Before you call me crazy, think about it: how many skinny opera singers can you think of?