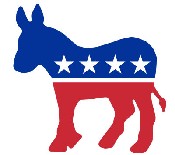 I know this could be shocking to some of you, but it turns out I'm a Democrat. I know. I know. Try to calm yourself.
I was on Izzy's site yesterday and found a link to this quiz. It helps you determine which political party you share values with. Once you take the quiz, you can play with all kinds of cool features like mapping yourself on a graph of famous people. Me? I'm hangin' in Robert Redford, Hillary Clinton, and Mikhail Gorbechev's neighborhood. What a block party that would be!
Go take it. Then come back and tell me where you stand.