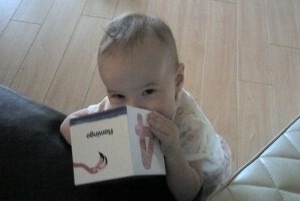 I'm starting to understand why parents buy only wooden toys for their kids. I'm not overly concerned with the phthalates in plastic, I just get tired of watching my daughter chew the paint and paper off of everything she plays with.
She has this really cute set of cardboard stacking blocks that Auntie Karin got for her. They have pictures of animals from an Eric Carle book on them and Signe is learning to roar like the lion and hiss like the snake (much to my chagrin). For the moment, they are her favorite toys, which means they are chewed beyond recognition.
Greg was hanging Sig upside down while he was playing with her the other day and noticed something small and black behind her top teeth. Once I wrangled it out of her mouth, I figured out that it was a piece of the fabric that is made to look like the cheetah's fur. Gross.
The smallest block is purple and has a marble or something in it that makes it rattle. When I just picked it up to make a stack, it was soaked clear through and you can hardly see the pretty outer coating anymore. I don't know if she's trying to get at the creamy filling or what.
Signe does have some wooden blocks our neighbor boys loaned her. She chews on those, too. I've had to take away a few because she has chewed the paint right off of them.
I probably shouldn't worry about her ingesting all that paper and paint. I mean, they wouldn't make a kids' toy dangerous to ingest, right? (Yeah right.)
Still, I'm fighting the urge to throw away (or at least set aside) all these chewable toys and replace them with nice, old fashioned unpainted wooden blocks.