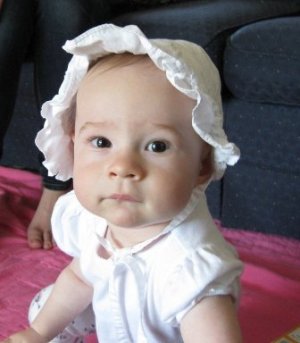 Today is my first day in the office in ages. I've been "working from home" a lot lately. I was out all last week with a cold/sinus infection. The week before that, I was only here two days so I could orient the new nanny. The week before that, I was only in one day so I could take care of Signe during our between-babysitters transition.
I woke up actually excited to come to work. I've missed my co-workers, our runs for morning coffee, the way I can work for an hour without interruption or temptation to go do laundry.
I was looking forward to a day with my nose to the grindstone. Workin' hard. No distractions. Full concentration on the task at hand. I just about cackled maniacally when I thought of the piles and piles of things I would get done.
So far, I've accomplished exactly squat. I've answered a few emails, caught up on my Google reader, updated Signe's birthday party invitation list, and gone to both Starbucks and Subway. But really, what I've been doing is biding my time until I can go home again and squeeze that little monkey of mine. Three weeks of almost constant contact with her has spoiled me rotten. I'm so used to working for a bit then taking a break to go pick her up, nibble on her arms, rub her cheeks with my nose, and say "Hi!" back and forth with her six or seven times.
It's been five hours since I've seen her and the missing her is palpable. It's visceral. It's painful and uncomfortable and it leaves a strange, restless sensation in my legs and stomach.
I keep reminding myself that I'll see her in a few hours, and I get to be with her all day tomorrow. And I have a three-day weekend coming. And that working is setting a really good example for her. But, man alive!, I'm about ready to chuck it all and go home.
Gotta stay strong. I can leave in 3 hours.