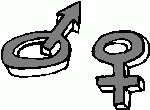 Earlier this summer, I was having a discussion with several people, both male and female, about women trusting men, men feeling unneeded by empowered women, high divorce rates, etc. A woman in the group said she had been to a workshop where it was argued that every problem on the planet, famine, war, disease, crime, abuse, derives from the war between men and women. It seemed to me to be kind of a lofty statement.
Then last night, I was watching last week's episode of Real Time with Bill Maher and his guests were the governer of Arkansas (Mike Huckabee, or something like that), Seattle's own (or I guess Vashon Island's own) Dan Savage, and Eve Ensler, of Vagina Monologues fame. The four of them had a fascinating conversation about whether or not it's true that the problems with the Arab world (and, as a consequence, ours) stem from the fact that the sexes there are so segregated. If you keep young men from girls and sex, you can pretty easily persuade them to fly themselves into buildings by promising that 79 virgins will be awaiting them in the afterlife. I won't go into details, because I'm sure I'd misquote someone, but I was almost buying it by the end.
It reminded me of a chat I had with a taxi driver in NYC in '98 or so about how Times Square has cleaned up. He argued, it was bad because it's now harder for men to find prostitutes, which, he further argued, would just add to the rape cases in the city. I was fresh out of college, and several women studies classes, and told him he was preaching a lot of bullshit because the problem wasn't a lack of prostitution, it was about men feeling like they had to get laid every time the urge struck them. I know that rape isn't really about sex, it's about power, but I still contend that my argument holds more water than his does.
This morning, I found this story in the Seattle Times. And now I'm totally buying it.
I've always thought of myself as a feminist, but I haven't felt this capitol "F" Feminist in a really long time. All of these conversations, pundits, and news stories have gotten me all riled up. I agree that spearing the dicks of rapists isn't the answer, that a larger societal shift needs to occur. But because the issue feels so huge, and I'm overwhelmed at the amount of work that would have to be done, and I just don't feel up to it this morning, I'm thinking I'm on the pro side when it comes to rapist penis piercing.