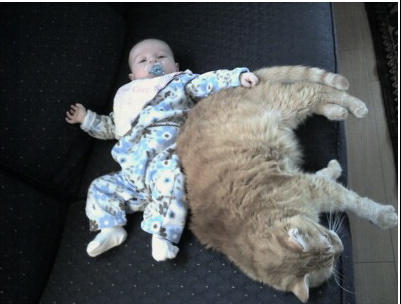 These days, the only question I get more often than "Is she sleeping through the night?" is "How is Niles doing with the baby?" The truth is, Signe and Niles are just now starting to notice, and, it seems, like each other. They were pretty oblivious those first few weeks, but they seem to have come to some sort of understanding. And I'm pretty sure that understanding is "Whoever gets to the mommy first gets to sit by her."
Sig is just beginning to explore with her hands. Of course, this means she puts everything she can in her mouth. But mostly, she just grabs at stuff. And lately, her favorite thing to grab is Niles' fur. Niles, naturally, loves this. He's pretty good natured though, so he puts up with it. Either that or he's realized that if someone is going to get kicked off the couch, it ain't the baby.
As patient and tolerant as Niles is though, it's pretty clear that his favorite time of day is the hours between 7:30 (Signe's bedtime) and 10:00 (our bedtime). He gets all the attention and love he can stand, for a good two or so hours.
So to answer that second question, Niles appears to be doing OK. He has yet to poop on my pillow, and for that I am grateful.