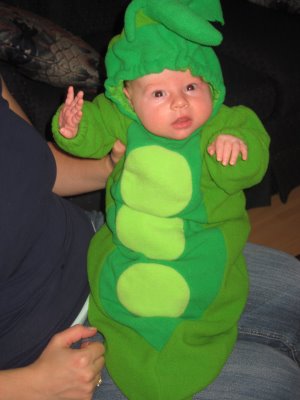 Signe is now 8 weeks old and gets cuter and cuter by the second. The photo above is her in her sweet pea Halloween costume. I think she looks like the inch worm from those old Money Tree commercials, but she's adorable nonetheless.
I'm sure every parent feels this way, but I'm pretty sure we have the greatest kid in the world. At night, she'll sleep a six- or seven-hour span, wake up to eat a bit, then sleep another three or four hours. She wakes up smiling and makes it really difficult for GTB to leave for work because she's so sweet. She spends her day sitting in the bouncy chair laughing as she watches me dance or sing to her, sleeping in the sling (which I'm just now getting the hang of), and fussing just a little when I make her do tummy time.
I still haven't perfected the skill of showering or getting much done while she's awake, which means I'm at the mercy of her still irregular nap schedule. If she decides not to take a good nap until 11:00, I don't get a shower before then either. Unless I want to take one while I listen to her scream, which I have done once or twice in desperate times.
The one complaint I have (other than her enormous carbon footprint due to the number of diapers she goes through each day) is that Signe is a nightmare in the car. She's fine as long as she has a pacifier in, but she spits it out about every 45 seconds and then she starts wailing and is inconsolable until I can reach back and put the pacifier back in. If I'm in the car by myself, I can't do that when I'm speeding down the freeway. So she just has to keep on crying. I sometimes hope that she'll cry herself to sleep but so far, that has yet to happen. On one particularly painful trip, she screamed all the way from our house to my office in Lake Oswego, a 25 minute drive. Another time, she cried so hard, when I finally got her home and out of her carseat, she had sweated through her onesie.
Other than that though, she's a dream. I have to go back to work on December 1 and I have no idea how I'll survive it. I'm praying they let me work from home at least two days a week, but that's still three whole days I'll be away from her. The thought makes me weep.