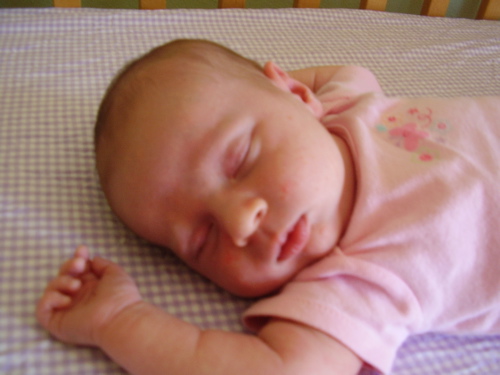 Signe is now over a month old and I'm starting to understand what people mean when they say things like, "They grow up so fast!" I nursed her at about 1:15 last night and again at 5:30 this morning and I swear she had grown in between feedings. She looks different almost every day. Her head is bigger, she's longer, and her hair gets thicker and longer. Oh, and every day, she looks a little more like GTB.
She's still just a little peanut though. I went to the mall with my mom yesterday and while I was feeding Sig in the Macy's bathroom, one woman oohed and aahed over her and then said, "Oh, I miss those days! Is she about a week old?" Of course, this was a woman who was almost six feet tall. Her babies were probably bigger at birth than Signe is now.
Sig has started smiling too. She gave several loving and amused looks at grandma yesterday. And she was all smiles when I went to get her this morning. It's so cute! I'll try to catch a photo of her newfound talent and post it here. But I have to admit, I've been terrible with the camera lately. It might be because it's hard to put her down long enough to actually snap a picture. So for now, you'll have to be satisfied with the one above that Greg's mom took with her iPhone.
More soon…