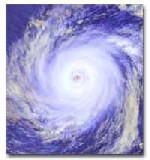 I have all kinds of things on my mind and was looking forward to several amusing and cathartic posts about them. For example, I saw "My Super Sweet 16" on MTV for the first time this weekend. Holy crap.
But I just can't bring myself to be amusing or profound about things like spoiled, rich girls or how annoying sibling money issues are when this storm is raging.
So expect witty, pithy observations about the state of our youth (and my sister) later in the week. For now, I'm focusing my attention on the Bayou.