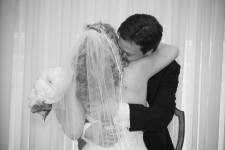 One year ago today, I made my hair all big, put on an ivory dress, and promised to love GTB for the rest of my life in front of my friends and family. I don't want to get all smooshy and say it was the happiest day of my life, but it was a pretty fuckin' great party.
June 9 marks the day that I made the smartest decision of my life by choosing to spend the rest of it with GTB. It also serves as a reminder that time flies when you're having fun. I can't believe it's been a year already.
There are moments when I think to myself, "Really? This, for the next 50 years?" E.g. when GTB is just about finished brushing his teeth and hawks one last loogey with a throat clearing that can be heard three houses away. But the vast majority of the time, I can't believe I got so lucky.
So, GTB, thanks for a great year. Thanks for making me feel pretty and appreciated even though I look like I'm shoplifting a soccer ball under my shirt, burp and fart on a regular basis, and sometimes (gasp!) don't wear makeup and a push-up bra. And thanks for putting up with me when I'm hormonal, feeling assy, or am otherwise less than fun to be around. And thanks for making me laugh all the time. And for driving 47 miles per hour in the right lane in cop-heavy areas of I-5. And for not judging me when I want to go to bed at 9:00 p.m. on a Friday night. And for wishing that if you had one superhuman power, it would be superstrength so you could keep Signe and me safe and protected.
Here's to the next 50. Loogeys and all.