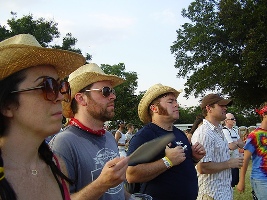 Alisa, GTB, Tim, and Jer watching My Morning Jacket
Finally, at long last, here is my ACL wrap up.
We've been back so long, the details are getting a bit fuzzy. But my high- and lowlights are still pretty vivid. So here they are, in no particular order:
-Before we left, I ran into an old friend who had spent the better part of his twenties in Austin. He recommended we visit Las Manitas. Unaware of the controversy in which this little Mexican joint was embroiled, we ventured there for breakfast our first morning in town. The food was great, the atmosphere was charming, but the absolute best part was toward the end of our meal. I was just finishing my cup of coffee when I looked up and saw a very cute woman with a Princess Leia-like 'do. "Austin peeps are so cute and cool," I thought to myself. Not a second later, I looked at the guy following her out the door and realized it was Win Butler. The cute woman? Yeah, that was Regine. In Austin less than 12 hours and we'd already had our first celebrity sighting: Arcade Fire. I was completely star struck and Win totally caught me saying "OH MY GOD!" to Alisa and Ellie who were sitting across the table from me and couldn't see him. Smooth.
-The first afternoon at the festival, I realized what everyone meant by hot. I knew it would be, I was totally prepared for it. Or so I thought. I had no idea how quickly it would get to me. Sitting in the mid-day sun, watching my band du jour, Heartless Bastards, I realized I had to get out of the heat or run the risk of becoming ACL's first heat stroke victim. I asked Alisa to accompany me to some shade. We found the only air-conditioned place in Zilker Park: the AT&T Oasis. We scouted out the corner with the most cold air and parked it for a good twenty minutes. Heartless Bastards were being simulcast on the TV in front of us. There was no sound though, so I still feel like I missed most of the show. A huge bummer, but at least I didn't pass out in front of everyone.
-Not long after that, Alisa and I found a shady spot in front of one of the stages. So we sat grabbed it and watched the 2007 ACL fire. From my understanding, a propane tank near the food court exploded, igniting other tanks and several of the Honeybuckets. We were far enough away that we couldn't smell that, fortunately. After watching that for a while, we noticed the crowd around us getting thick with youngin's. Feeling a little silly, we decided to stick it out (we were in the shade, after all), and saw Peter Bjorn & John rock our little hearts out. I'm not kidding when I say that Peter was totally checking out Alisa and me. (Though we also theorized that he might have been looking at us wondering why they let two old women into the front row.) We both left with big crushes.
-The second day, there wasn't a band I wanted to see until about 6:30 p.m. So we made our way to the park, Alisa, Chris, and I said a temporary farewell to everyone else, and the three of us made our way to Barton Pool for a swim. It was closed due to dangerous run off after heavy rains, but Barton Springs swimming area right next to it was open. Go figure. We waded in, in shorts and bikini tops, and got our body temperatures to a place where we were pretty sure we'd stay cool for the rest of the evening. It worked. My shorts never did dry that day, but I also didn't care that much because they were keeping me so comfortable. It was lovely.
-Also that day, I went with GTB, Ellie, Tim, and Jer to the food court for dinner. Having eaten just an hour or so before, I stayed back from the lines and everyone agreed to meet back at, well, me. Standing near a garbage can, I had a perfect vantage point from which to witness a very cute twenty-something guy ralph his guts out right into the can. I wasn't sure what he was doing at first. He looked a bit wobbly, but so did everyone–beer was only $4. He leaned over the can, opened his mouth, and out flew a thick stream of what looked like orange gatorade. It seriously took me about 20 seconds to realize what was happening. It was like sci-fi. It was also pretty gross.
-Speaking of gross…I'd heard good things about how ACL organizers always ordered too many Honeybuckets, so none of them ever got overly full or stinky. The organizers must have learned their lessons about paying too much for stuff you don't need, because the Buckets were plenty full and stinky by about 3:00 every day. I'm kind of a prissy pee-er; I don't like Honeybuckets as is. But those three days of urinating were just about the most traumatic bathroom experiences I've ever had. I'm not sure I've fully recovered.
-On the second night of ACL, we met Chris' friend Jamey for drinks at a bar near his house. We found a small place for the eight of us to gather on the patio. GTB struck up a conversation with a guy who later introduced himself to the rest of us. He and his girlfriend told us about how they would be attending a Renaissance Faire that weekend. Thus commenced the most excrutiatingly boring discussion in all of recorded history about whether or not Renaissance Faires are produced by the same company that puts on WWII re-enactments. Or something. I was trying really hard to disengage and chose instead to stare at the moon tower overhead. Later, after we left the bar, GTB informed us all that RF guy was some kind of religious freak and was apparently trying to enlist or convert GTB while the rest of us were ignoring him. Jer was the last one talking to RF and the next day, Jer gave GTB RF's card. Needless to say, we left it behind in an empty beer cup. Oops.
-Other bands we saw: Clap Your Hands Say Yeah, the National, Arcade Fire, My Morning Jacket, Spoon, Bloc Party, the Decemberists, and Yo La Tengo. Awesome, awesome stuff.
-Alisa and Chri's hospitality was stunning. Not only did they let me take two showers a day, but they took us to so many good restaurants and bars my head was swimming. Granted, when we got back to Portland, GTB and I were both ready to live without Mexican food for a few days, but when in Rome, right? The food in Austin is incredible. The bars make amazing margaritas. The people are super friendly (even if some of them are Jesus freaks).
All in all, it was a great trip. The music, the food, the friends, the heat, the puking guy. A fantastic experience. I'd actually consider going back next year. Depending who's on the lineup, of course.