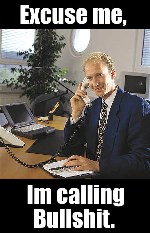 I FUCKING HATE my IT department at work.
A few months ago, they made it impossible to view myspace from work computers. That sucked a little, but I understood it, I guess. Despite the fact that just about every media outlet that covers my industry has reported lately that myspace may very well be the future of client leads and relationship management… whatever, I'll do myspace browsing on my own time.
But this morning, when I went to log into my personal email account on yahoo, I got a message that they had blocked it, too. I'm seething.
I try very hard to keep my work email clean of personal messages. We get messages from the IT dept. all the time about how we need to clean out our inboxes, keep the server as clear as possible, not store old messages we don't need. So I keep personal emailing to yahoo. I thought I was being fairly professional by doing that.
Also, I know for a fact that our IT team reads our work email. So there's no f'ing way I'm going to let GTB or anyone else send me emails here.
I'm trying to plan a wedding, and all my vendors have my yahoo account as contact information.
The only way I'm in touch with my brother in Iraq is through personal email.
And now I don't get to see any of it during the 9 hours a day I'm here. Fuckers.
Oh, the best part? It's still OK to go read hotmail emails. (Did I mention that the head of our IT department used to work at Microsoft?) Too bad I don't have a hotmail account.
So if you need to get in touch with me during the day, TOO FUCKING BAD. I'll have to get back to you tonight. Sorry.
UPDATE: Either the dudes read my blog and decided not to mess with the Girl, or I was smoking crack this morning…but I'm now able to access Yahoo again. Phew.