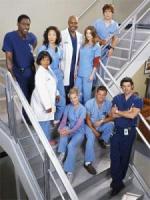 I'm not at all a fan of Grey's Anatomy. I think it's trite, overly angsty, and not even a little bit interesting.
GTB watches it. Several of my bestest friends watch it. Several of GTB's friends watch it. My future in laws watch it. And they all love love LOVE it! I'm constantly surrounded by overly invested conversations about the love lives of fictional people who are nothing more than boring little crybabies.
I am, of course, mostly alone in this line of thinking.
But I just can't bring myself to like it. Yes, I've seen a few episodes. And every time I find myself thinking, "I don't care! I'm not interested in any of these story lines. Izzy, shut up! Meredith, shut up! Sandra Oh (I don't remember what her character's name is) SHUT UP!"
And today, while browsing around on some stupid celebrity gossip site, I saw a banner ad for Grey's Anatomy on…wait for it…Lifetime.
LIFETIME TELEVISION FOR WOMEN, people!
When was the last time you watched something even remotely decent on Lifetime?
I rest my case.