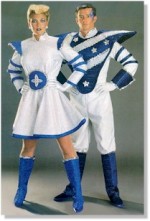 Further proof that I'm a holiday curmudgeon: I can't think of one good thing to be for Halloween and the whole idea just makes me shrug my shoulders and sigh.
I don't normally dress up for Halloween. I rarely go to parties where a costume is mandatory. The last time I donned a costume was about three years ago when I was Melanie (the Tippi Hedron character) from "The Birds." It was a great get-up. I had a ladylike, green suit jacket that had little blackbirds pinned to it. I tore holes in my pantyhose and painted my knees with red lip gloss (the faux wounds were so convincing that people kept asking me if I had fallen; not too much of a stretch, really, since they all knew of my clutziness). And I disheveled my updo to make it look like I'd been attacked or had been running. That was a hit.
But since then, I've avoided costumes. I can't remember the last time I dressed up before then either. Junior high, maybe? And I'm pretty sure then I just ratted my hair, sprayed colored paint in it and went as a "punk rocker," i.e. the "I'm too cool to dress up, so I'll do this one thing that makes me look cooler and pretend I'm not really dressing up" costume.
This year though, GTB and I will be attending a costume-required party at his sister's house. And I have no idea what to be. Do we dress up as a couple? We had tossed around the idea of him being Mark Foley and me putting on a boy wig to be a Congressional page, but then we heard someone else who will be at the same party is doing that.
I could just come up with something on my own and leave GTB to his own devices. But he would just be a cowboy again and, honestly, he's sort of a cowboy everyday already anyway. Plus, isn't part of the fun of being a couple getting to do that kind of shit together? Or is that just hokey?
There's so much pressure to be creative, and irreverant, and a little twisted. All while still looking kinda hot. (An aside … I remember reading something funny on the Onion a few years ago about the top five costume ideas for women. They were all like this: sexy kitten, sexy nurse, sexy cheerleader, sexy stripper, sexy something else.) And that pressure is killing my creativity.
On top of that, I always have it in the back of my mind that I'll be wearing this costume around my future mother-in-law, as she will also be attending the party. So what's cool enough to impress your boyfriend's friends, while not offending his mother? Yeah, you starting to see my problem here?
I don't want to be a bah-humbugger about every holiday. I've already gone on the record with my feelings about Valentine's Day, and I think you know how I feel about New Year's Eve. I really WANT to like Halloween. I just wish it wasn't so stressful.