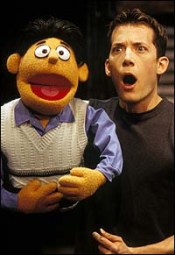 Last week, I got to see one of my favorite musicals for the first time. A friend bought me the Avenue Q soundtrack for my 29th birthday and I've been in love with it ever since. If you haven't heard of it, I'll just say this: it's got puppets that have sex and swear. Needless to say, I was jazzed to see it on stage.
Avenue Q is kind of a parody. It's kind of a parody of Sesame Street. It's kind of a parody of Rent. It's kind of a parody of anyone who's ever been an overly angsty twentysomething. And the songs are catchy as hell. One listen to such classics as "What Do You Do with a B.A. in English?," "It Sucks to Be Me," and "If You Were Gay" and you'd be hooked, too. One of the greatest songs though is "Everyone's a Little Bit Racist." Why's it so funny? Because it's fucking true, dawg:
If we all could just admit
That we are racist, a little bit
And everyone stop acting so PC,
Maybe we could live in harmony.
I listened to the Avenue Q soundtrack on my way to and fro Bellevue/Portland yesterday, so it's kind of on my mind. Ironically, GTB sent me this today.
By these standards, fuck yeah everyone's a little bit racist. While you're at it, if you're going to judge my iPod/playlist/CD collection on this type of thing, you can go ahead and call me sexist, too. No way are slightly more than 50% of my favorite bands made up of women. And I'm a chick!
Is Stephin Merritt a racist because he doesn't like hip-hop?