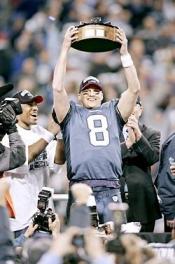 GTB is in Mexico, and I'm miserable with missing him. He left in the middle of the night Friday (or early morning Saturday, depending on how late you were out drinking) and I've been fighting bouts of anxiety at the thought of not seeing him for two weeks and overwhelming longing every time I realize he's not only in a different time zone but an entirely different country. I keep reminding myself that in the grand scheme of things, two weeks isn't that long. And that someday, I'll look back on this time of independence and freedom with great nostalgia. But that didn't make getting out of bed Saturday morning (or any morning since) any easier.
On Saturday night, when I hadn't heard from him, I decided it was either because I was in Hometown, where I get lousy cell reception and am on constant Roam, or because he can't use his cell phone in Mexico. Either way, I was bummed. Big time. So when I woke up Sunday, I decided to call his cell phone, just to see what happened. A few weird sounding rings later, he picked up and we determined that he might not be able to call me, but I could still call him. Thank goodness.
GTB is a huge Steelers fan, so when they won yesterday, I sent him a text message that said, "Did you see the game? Steelers just won!" He texted me back and said he had seen it. Then we went back and forth a few times trying to determine how he could call me from him cell phone. Is the U.S.'s country code 001 or 011? That sort of thing. Joe did a little research and a few minutes after sending his findings to GTB via yet another text message, my cell phone rang. The caller ID was blocked, but I was pretty sure it was him. It was.
We talked for a few minutes, basking in the relief that we would be able to chat whenever we wanted, even if he's half a continent away. Then I said, "Babe, I'm gonna watch the game now. I'll call you later." A few silent seconds later, he said, "Really?"
Yes, really.
He said, "But I miss you and I want to talk to you." I replied, "I miss you too, but I'm watching the game. And I'm at someone else's house." He argued, "Yeah, but it's just BFE and Joe." Which was true, but FUCK! The fucking Seahawks were only in the second quarter. Sure they were winning, but you know how those things can go. I was nervous. And I was on my third beer already, just trying to keep myself calm enough to actually watch the game. So we hung up.
GTB is, hand's down, my favorite thing on the planet. But I knew I would be talking to him in a few hours. So even though he's totally my priority the rest of the time, I needed to compartmentalize and focus on the game. And then it hit me.
I'm a fucking MAN.
For a few hours at least, I was insensitive, cold, unfeeling. I put a football game above my boyfriend, who, a few short hours before, I was missing so bad I couldn't bear the thought of washing the T-shirt he'd let me sleep in because it still smelled like his house.
Of course, by the time I got home and called him back, and he was too drunk to have a good, meaningful conversation because he and his family had done a few too many shots of tequila, I was all sad and needy again. I.e. a girl. Phew.
Fortunately for both GTB and me, it looks like we will be together to watch the Superbowl. Expect a blog post immediately afterward that details the excrutiating day we'll have since he's a Steelers fan and I'm a Seattle girl all the way. Go Hawks!
Seattle earns first Super Bowl bid