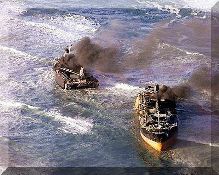 I moved back to Washington state in the early spring of 1999. Traumatized from a bad break up and having to leave New York City, I holed up in my parents' house for a couple of months to lick my wounds and figure out what in the hell I was gonna do next. Since Hometown is in Southwest WA, the "local" news comes out of Portland. And the big news story the first few weeks I was home was the New Carissa.
The ginormous oil tanker had run aground when it left its anchor down in a bad storm. On a beach in the middle of the state of Oregon, the big boat leaked its oil and flummoxed locals and officials alike. Eventually, out of other options I guess, they blew it up and I think part of it still rests on the beach there.
I was reminded of this story yesterday when I solicited ideas about Oregon's historic notables from Slamm and GTB (both Portland natives) for a work project. GTB sent me an exhaustive and impressive list of the 50 best historical Oregon tidbits he could conjure. Slamm sent an equally amusing and helpful (though not as lengthy) list. One item they both included was the Exploding Whale. Maybe because I'm younger than they are, or maybe because my family watched KGW 8 and not KATU 2 news, I had never heard of this local legend. Slamm sent me a video. In a word, it's AWESOME.
So it seems that when something large and unruly washes ashore in Oregon, the fine people there follow this course of thinking:
-Oh shit! Something big has washed ashore!
-It's big and it A. stinks or B. is posing an environmental danger.
-What in the samhell are we gonna do with it?
-We can't tow it.
-We can't cut it in half.
-I know, LET'S BLOW IT TO SMITHEREENS!
-Boom!
I don't know about you, but I'm gonna go ahead and call this "Advantage: Seattle."