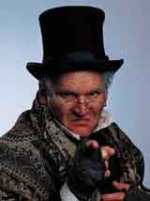 Christmas in my parents' house is chaos, in the best possible way. With siblings, step-siblings, siblings-in-law, nieces, nephews, grandma, parents, a dog, a cat, and me all running around one house, it can be hectic. I can't remember a time we all sat at one table for Christmas dinner. There are way too many of us. So we dish up in the kitchen, grab a seat wherever we can, and grub until we pass out. There is no kids' table, there are no politics about the head chair. It's a total democracy. Opening presents is kind of the same way. Since some of us stay at my parents' house and others only come in for the day, gifts are opened throughout the day, upon the arrival of the recipients. We get just about cleaned up from one round when another one starts. But it's so much fun. I'm always blissfully happy on Christmas day.
However, I am starting to think I'm a bit of a scrooge when it comes to the holiday season in general. I haven't had a tree in my apartment since 1999. I send out holiday cards, but it's mostly so people will have my correct address if they choose to send me something later in the year (it could happen!). I don't scour the car radio looking for that one station that plays Christmas music starting in November. I noticed this weekend while driving with my sister-in-law, who does scour the car radio for that particular station, that the only Christmas song I know the words to is Jingle Bells (and even then I get them confused with the "Batman Smells" version). I wholeheartedly believe that stores shouldn't be able to play Christmas music until after Thanksgiving. And I can't for the life of me figure out why ANYONE would go shopping the day after Thanksgiving. Black Friday, I think they call it. I try not to even drive that day, let alone go near a mall.
I talked to sis-in-law about my realization that I might be a bah-humbuger this weekend and asked her why she likes Christmas so much. She said, "I don't know. Maybe because it only comes once a year and it's over so quickly." But I think we spend more time celebrating Christmas than any other holiday. Plus, you know what else comes once a year (if you're lucky): pap smears. And I don't see us celebrating those.
I like Christmas, I really really do. But if you see me cringe when "Up on the Rooftop" or "White Christmas" come bellowing out of the speakers in the Nordstrom shoe department, don't assume it's because I don't like Bing Crosby. I just don't totally get the whole hullaballoo.